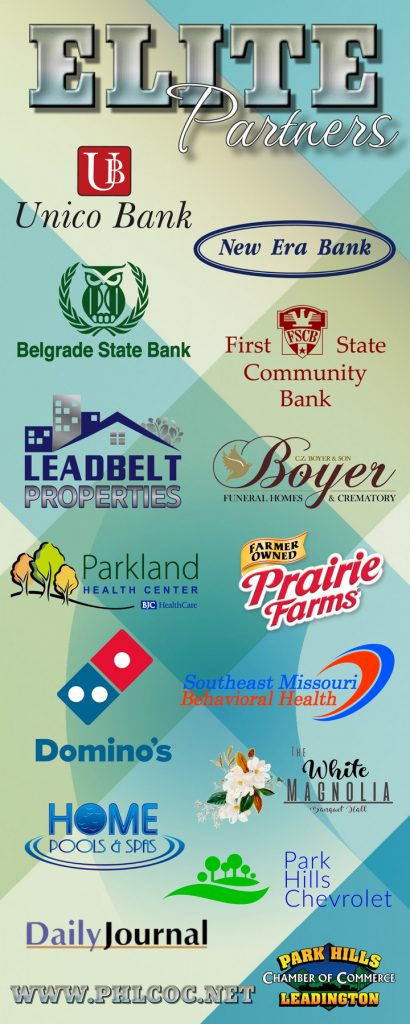 Upcoming Events
View All Upcoming Events

The Park Hills - Leadington Chamber Ambassador Program is designed to improve Investor participation, networking, and appreciation.
Many of our Investors already do many of the requirements for this program, but as a member of the Ambassador Club, they have an opportunity to earn prizes and be rewarded for their chamber participation!
Ambassadors will be a select few and must be registered with the Chamber office, so if you are interested in becoming an ambassador, please contact the Chamber office ASAP.
2023 Ambassador Club Sponsors
Thanks to these sponsors, our quarterly Acclaimed Ambassadors receive fantastic gift baskets in appreciation of their dedication to the Chamber.
The Club Mission
The mission of the Park Hills-Leadington Chamber of Commerce Ambassador Club is to promote Investor commitment and retention through the following activities:
Raise awareness of Chamber activities and benefits
Inform and involve new Chamber Investors to promote strong membership
Encourage meaningful and beneficial participation in the Chamber's programs
Serve as a liaison for the Chamber and its Investors
The Ambassador Club Description
The Ambassador Club is made up of volunteers from the Chamber investors, to assist the Chamber in various activities.  Ambassadors serve a term of one calendar year, beginning in January.  Service may continue if agreed upon by the Ambassador and the Chamber.
Become a Chamber Ambassador
If you are an Investor of the Park Hills - Leadington Chamber of Commerce and are interested in becoming a member of the Ambassador Club contact us at 573-431-1051 or info@phlcoc.net.
Be an Ambassador Club Sponsor
Ambassador Club Sponsors help us give Ambassadors the appreciation they deserve while promoting your own business or organization in a way that shows you care!
Club Sponsors provide us with four gifts per year (all at once or one per quarter) which are included in the Acclaimed Ambassador Gift Baskets. Gifts may include things such as gift certificates, free products, hats, t-shirts, coffee mugs, home decor, etc.
In exchange for your four gifts, your business or organization will receive recognition for an entire year with an exclusive marketing package!
The marketing package includes the following:
To receive this exclusive marketing package and become an Ambassador Club Sponsor, contact us at 573-431-1051 or info@phlcoc.net.
For questions or more information about becoming an Ambassador or an Ambassador Club Sponsor, please contact the chamber office at 573-431-1051 or info@phlcoc.net.