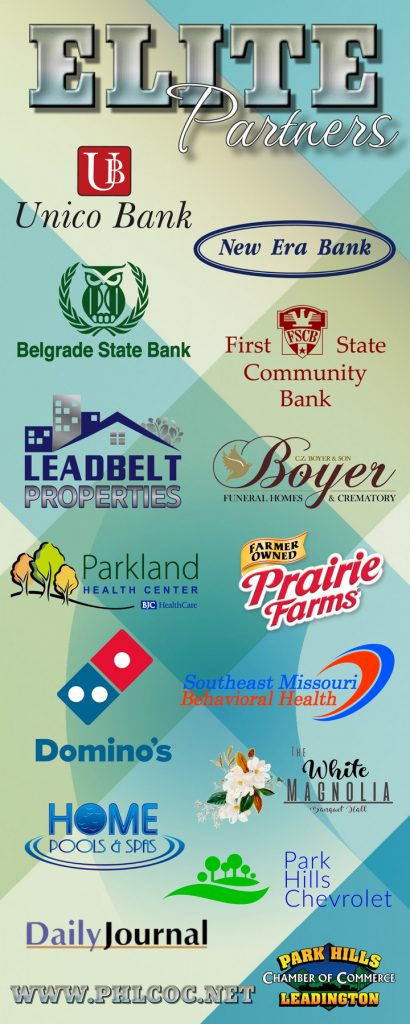 Upcoming Events
View All Upcoming Events
Get Involved - Join a Chamber Committee!
The Park Hills - Leadington Chamber of Commerce is focused on helping investors build their businesses while keeping them connected to the Chamber and the community. Joining a Chamber committee is a great way to build business relationship and gain potential clients. There is a wide variety of Chamber committees. We're sure you'll find one to match your expertise or interests. For more information about a committee, contact the Chamber office at 573-431-105.
Who can serve as a committee member?
Chamber Investors currently invested and in good standing.
When do committees meet?
Meeting dates vary depending on each individual Committee. Some meet monthly, some meet quarterly, others only meet once a year. Contact the Chamber Office for approximate meeting times of the committee(s) you're interested in.
Where do committees meet?
Most committee meetings are held at Main Street Grill in Downtown Park Hills, however, locations do change. Contact the Chamber office for more information about the meeting location of the committee(s) you're interested in.
Why should I become a committee member?
Serving on a Chamber Committees allows you to become more involved in the local business community. It allows for marketing opportunities, relationship building, networking, idea sharing, product and service promotion, increased business visibility, customer referral & recruitment, community betterment and so much more!
Park Hill - Leadington Chamber Standing Committees
Park Hills - Leadington Chamber Sub-Committees