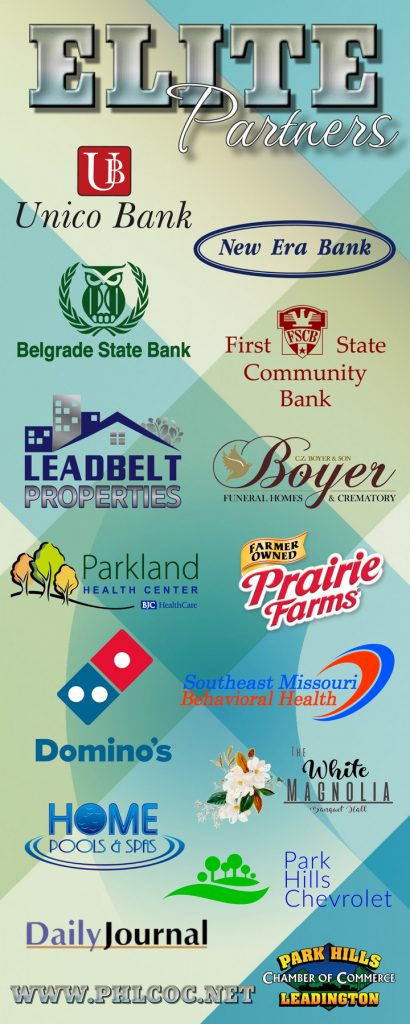 Upcoming Events
View All Upcoming Events
Why invest in the Park Hills - Leadington Chamber of Commerce?
See what some of our investors feel is most important to them...
"I've said it before and I'll say it again: Park Hills - Leadington Chamber of Commerce goes above and beyond and does the best job of anyone around to help promote and support the businesses of not only our communities but other surrounding communities."
Robert Sullivan, Owner
Sullivan Farms
---
"My membership in the Park Hills-Leadington Chamber of Commerce is a good investment for my business. I have made countless contacts with other Chamber members, and those contacts have resulted in customers for my organization, products that I needed access to, and along the way, I've made contact with literally hundreds of people I may not have had the chance to meet. The networking alone is worth its weight in gold! The Chamber's events and programs make me proud to be a part of something so good."

Ursula Warren, Director Senior Center
East Missouri Action Agency
---
"This Chamber stays very active and out in front of the community it serves. The board and Director work well together and are always looking for ways to improve their service to their investors."
Linda Dickerson, Executive Director
Habitat for Humanity of St. Francois County
---
"The Park Hills - Leadington Chamber of Commerce is a great organization that is extremely active in the local business community. They are always willing to help however they can with whatever sort of event or promotion that my business is having. Also, the recent changes to the chamber's website have made it a very presentable and useful tool. Not to mention, Tamara Coleman does an outstanding job at keeping everything organized and professional! I'm happy to be a part of this organization!"
Lance Sechrest, President
Ozark's Modern Insulation & Leadbelt Stove and Fireplace
---
"Our Chamber of Commerce is committed to continuously finding ways to promote our businesses and our city. They work very hard to welcome new businesses to our area and continue to praise existing ones."
Sandra Inman, Manager
Mineral Area Office Supply
---
"The Park Hills- Leadington Chamber of Commerce is a great organization for any business to join. Not only has the Chamber help our business grow, but it also helped me grow personally as well!"

Megan Jacobs, Marketing Director
SERVPRO of Farmington
---
"The Park Hills - Leadington Chamber has promoted my business in a number of ways. I was able to host a coffee get together with the rest of the investors. That got my business name out. I was able to inform business leaders on the day-to-day activity of my company which in turn brought in more business. Investor luncheons are an opportunity to network with business and community leaders which also brought in new business for me. Supporting other businesses at ribbon cuttings and participating in Chamber activities showed my support for the community which in turn garnered the respect and camaraderie of the local business leaders who now come to me for their needs. It's like anything else, the more YOU put into it the more YOU get back!"
Michael Campbell, Financial Coach
Missouri Work Assistance
---
"The Park Hills - Leadington Chamber works tirelessly to help promote new and existing businesses in the community. It is one of the cheapest forms of advertising and also helps encourage networking with like-minded individuals. Truly an advantage to new business owners to join!"
Lori Ball, Office Administrator
Kevin Ball Auto Body & Sales, Inc.
---
"With me being new to the community last year, I personally feel the chamber welcomed me with open arms and made me feel a part of the community immediately. Being in sales, it has allowed me to grow my business by meeting so many wonderful business owners. But all in all - it is about relationships within the chamber and the community. The chamber has exceeded my expectations!"

Ronni Conley, Agent
KBH Realty
---
"Tammi is very helpful, efficient, and friendly anytime we are needing assistance from the chamber. Being a chamber member is a great way to network and promote our business. We utilize their services often and would recommend local businesses to become a member. Thank you for all you do for Heart & Soul Hospice and for our community."
Susan Swink, Marketing Director
Heart & Soul Hospice
---
"The upgraded website is a valuable source of communication and information for the local events. Mrs. Coleman, the director of the chamber, continues to keep the Board of Directors focused on the promotion of the area, an important aspect of this group."
Louie Seiberlich
St. Francois County Auditor
---
"The Chamber is very involved with businesses throughout the community. They work to try to better the community for the benefit of the citizens and businesses. The Chamber is a very good way to meet new people and find great business opportunities. There are all different lifestyles of people within the community and the Chamber works to accommodate as many of them as possible while working for the community."
Jan Alsup, AVP Branch Manager
Unico Bank
---
"Amazing group of people who welcome you in like family. A great way to network and not only make friends but connections."
Stephanie Roesslein, Marketing
C.Z. Boyer & Son Funeral Homes