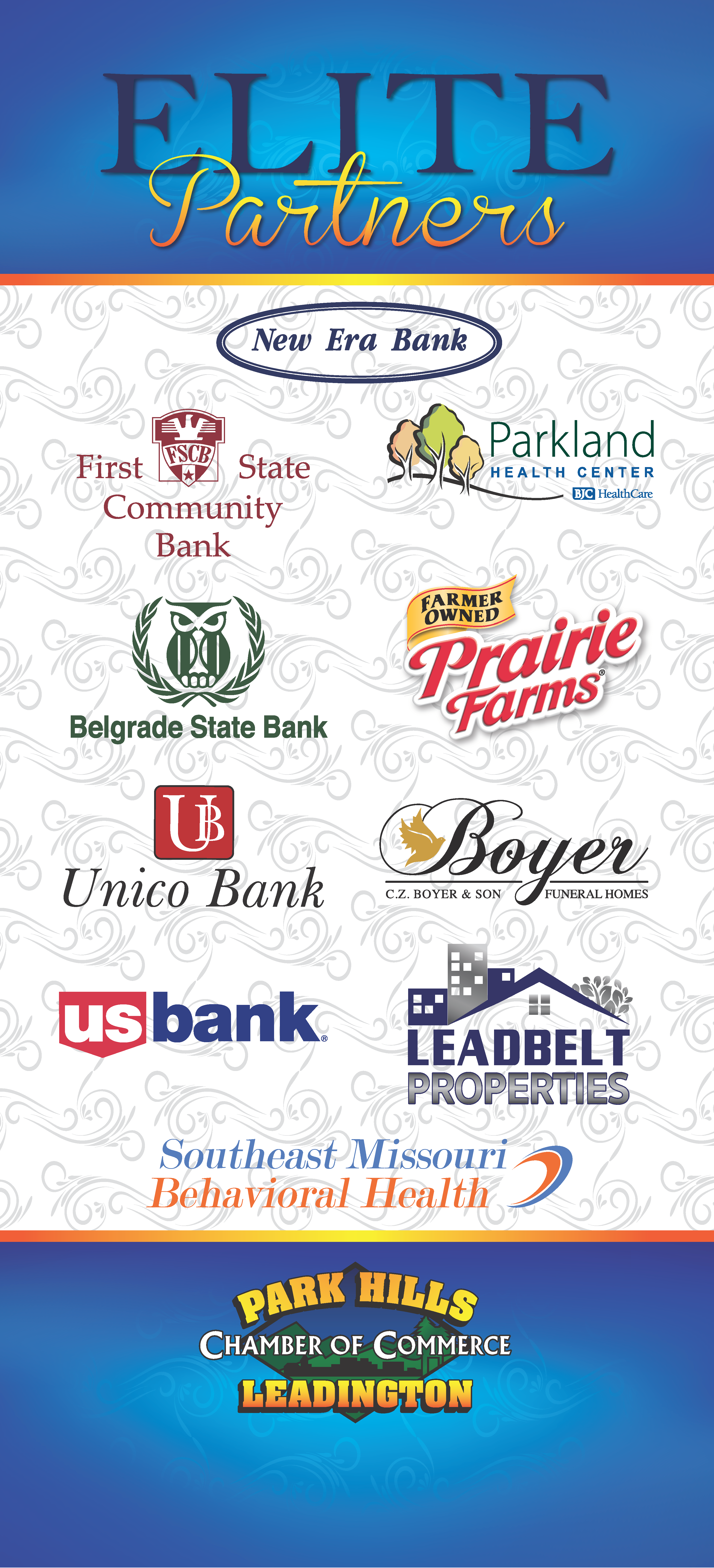 Upcoming Events
View All Upcoming Events
As an investor of the Park Hills - Leadington Chamber of Commerce, you will have access to all of the benefits listed below. And we are continually working to add new and exciting benefits for our investors.
Free & Low-Cost Promotional Opportunities: Your business card, logo, or web links in our many publications reaches 2000+ consumers, not only locally, but nation-wide!
Ribbon Cuttings & Ground Breaking Ceremonies: Newly opened or newly re-opened, the Chamber will help with your celebration through promotions. Let us invite the community leaders, chamber members, and local media to help spread the word.
Free Graphic Designs: New businesses especially, can benefit from letting us design your business card, promotional graphics or flyer for Chamber use. We try to use investor logos and graphics in as many ways as possible, and flyer inserts are an excellent way to promote monthly specials. You provide us with the info and graphics or graphic ideas that you would like to see in your flyer or promotional graphic, and we'll design it for you.
Free Notary Service: Investors can utilize state certified notary services, free of charge during office hours.
Free Rental & Real Estate Advertising: Investors with commercial or industrial property or buildings for sale or rent in Park Hills can list those sites free of charge on Missouri's Economic Development website "Location One". Potential buyers/renters world wide have access to your information 24-hours a day, 7-days a week.
Informative Meetings: Monthly investor meetings provide Chamber investors with a variety of information through guest speakers. Topics range from small business information to governmental issues and assistance to community interests. Monthly meetings keep investors abreast of current chamber happenings, and provide an excellent networking opportunity.
Business Spotlight: Each month, one investor is featured for an entire month. Beginning the first Friday of the month featured, that business hosts a First Friday Coffee Relationship Building Event at their business. The featured business is mentioned during the Chamber's regular radio interviews, featured at the top of the Chamber's e-Newsletter for the entire month, allowed a 3-5 minute commercial at the Chamber luncheon, and more.
Office Equipment Privileges: Investors have access to the use of office machines including the copier, fax, binder, paper cutter, etc. Investors may use machines on-site, as reasonably needed, during office hours. (Investor must provide their own supplies, such as paper, binding combs, etc.)
Low Cost Color/ Black & White Copies: Investors can have copies made at the Chamber office for just $.10 each per color copy and $.05 each per black and white copy. Investors must supply their own paper.
Timely publications: All Investors receive a weekly e-newsletter the "Chamber News" as well as periodical email updates. These useful publications include up-to-date information on chamber & local events, introductions to various businesses and community leaders, member promotions, new investor announcements, occasional updates about Missouri Legislation, and much, much more.
Chamber Web Site: The Chamber's website offers a wide variety of information to Chamber investors and visitors, including local tourist and new resident information, chamber event information, legislative updates, a blog for networking, investor links, hot deals, local job postings and more. Each investor also has their very own page within our site with links to their website and social media sites. Investors also have the option to "enhance" their page to include additional, more detailed information about their business/ organization, up to 10 photos, a map, more links, additional search engine optimizing key words, YouTube video and much, much more. Contact the Chamber office for more information on this.
Facebook Presence: The Chamber has it's own Facebook page with more nearly 1500 fans. This page is always being updated with chamber and local happenings to keep you up-to-date. Businesses are able to network with other businesses, residents and potential customers here. This incorporates a whole new way of promoting your business for free with ability to reach thousands of potential clients!
Ambassadors Program: A handful of chosen investors are recruited to serve as "ambassadors" of the Chamber. These individuals are looking for ways to become more active in the community via the Chamber, but currently lack the needed amount of time to fully invest by serving on the Chamber board. Ambassadors compete for points in hopes of winning quarterly prizes through their attendance and participation in chamber luncheons, meetings, ribbon cuttings and events. This is a position a little more involved than that of a traditional investor, yet less active than that of an elected board member.
Investor Web Presence: Information about our investors is available 24-hours a day, 7-days a week, world-wide, through listings and links on the Chamber's web site. Each investor has their very own page within our site. With our Enhanced Membership Option, you are free to include detailed information, pictures, logos, maps, and various other information about your business, as well as, a link to your own existing site. Contact the Chamber office for more information the Enhanced Membership Option.
Free Mailing Labels: Investors may request one free set of investor mailing labels annually for promotional purposes.
Business Referral Promise: One of the least recognized, yet most effective investor benefits is the Chamber's Business Referral Promise. Because the Chamber is often the place people turn for assistance in locating goods and services, it is our promise to promote chamber investor businesses first, and exclusively through referrals. With our specially designed software, not only can we do instant email referrals, or quick print referrals, but you, the investor, can use our site to refer your business to potential customers.
New Resident Packets: Mailed to numerous businesses and individuals annually who are looking to relocate to the area. Packets include useful information for visiting or relocating to Park Hills or Leadington and can include brochures, business cards, pamphlets, etc. from investor businesses.
Chamber Display Rack: Investors are invited to display their promotional materials or business information in our display racks at the Chamber office for the hundreds of visitors that stop by the Chamber office annually.
Special Events: The Chamber offers numerous special events throughout the year including the Chamber Golf Tournament, Hump Day BBQ, Firecracker Run, Trivia Night, a Christmas Parade and more.