Welcome to Our Page!

The Park Hills-Leadington Chamber of Commerce would like to welcome you to Park Hills, Missouri and Leadington, Missouri. We hope you will enjoy the friendly small-town atmosphere as much as we have.


The Park Hills and Leadington communities have both played roles in Southeast Missouri's rich mining history. The "Lead Belt" was once one of the largest producers of lead in the world. With the depletion of this resource, the cities have met the challenges of transitioning from a mining-based economy to one much more diversified. Many small businesses are flourishing and more start-up businesses are opening each year.


We are very proud to have one of the finest community colleges in the state within our city limits. Both cities share an award-winning public school system, which is fully supported by a proud community.


If you enjoy the outdoors, you will love our parks. Our city parks are well-maintained and we are blessed with St. Joe State Park, one of the most visited state parks in the U.S., located right on our doorstep.


Whether just visiting or a new neighbor, you will find that Park Hills and Leadington are friendly, fun-filled communities. If you have any questions, please don't hesitate to contact the Park Hills-Leadington Chamber of Commerce at (573) 431-1051. It is a distinct privilege to welcome you to our cities.


Sincerely,


The Park Hills-Leadington Chamber of Commerce Board of Directors & Staff


Total Solar Eclipse 2017 - A HISTORICAL Event Right Here in the Parkland!!

Experience The First Total Eclipse in Park Hills and Leadington since 1442!!

The total solar eclipse will take place on Monday, August 21, 2017. The partial phase will begin at in the late morning at 11:52 a.m. Totality will last from 1:16 p.m. - 1:19 p.m. The eclipse will end at 2:44 p.m. All Missourians are encouraged to go outside during lunchtime and observe the eclipse.


This will be the first total solar eclipse in the continental U.S. in 38 years. The last one occurred February 26, 1979. For most of greater St. Louis area, the last total solar eclipse was in 1442. Totality crosses only through the US, no other country. It has been coined the "Great American Eclipse".

Everyone in the continental U.S. will see at least a partial eclipse.

More than 3 million Missourians live in this path!

In Leadington & Park Hills, spectators will experience 2-Minutes and 17-Seconds of Totality!

It is never safe to look at the Sun without proper eye protection.

During the time the Moon's disk covers that of the Sun, it's safe to look at the eclipse.

You won't need a telescope.

You may experience strange things.

Eclipse Viewing Glasses are just $1.00 Per Pair NOW.
Prices are expected to TRIPLE by August 1st!
Eclipse Viewing Glasses are affordable, safe, and make great keepsakes too!
It's smart to get your supply early! Avoid inevitable shortages and price increases!


Viewing Locations Locally Include:
Mineral Area College

St. Joe State Park

The Park Hills Sports Complex

Official Viewing Glasses are Available at the Following Locations for Just $1.00 Per Pair:


The Park Hills - Leadington Chamber of Commerce Office

Leadington City Hall

The Lemonade Stand Boutique, Farmington

American HomeCare, Park Hills

Park Hills Public Library

New Era Bank - All 3 Locations!

Special Memories, Leadington

Park Hills River Mart

KFMO/B104 Radio, Park Hills

First Bank, Park Hills

Claddagh Irish Dance, Park Hills

Pharmax Pharmacy, Leadington
Learn more about the 2017 Eclipse on our website at: The Great American Eclipse of 2017


Claddagh Irish Dance School Celebrates New Location!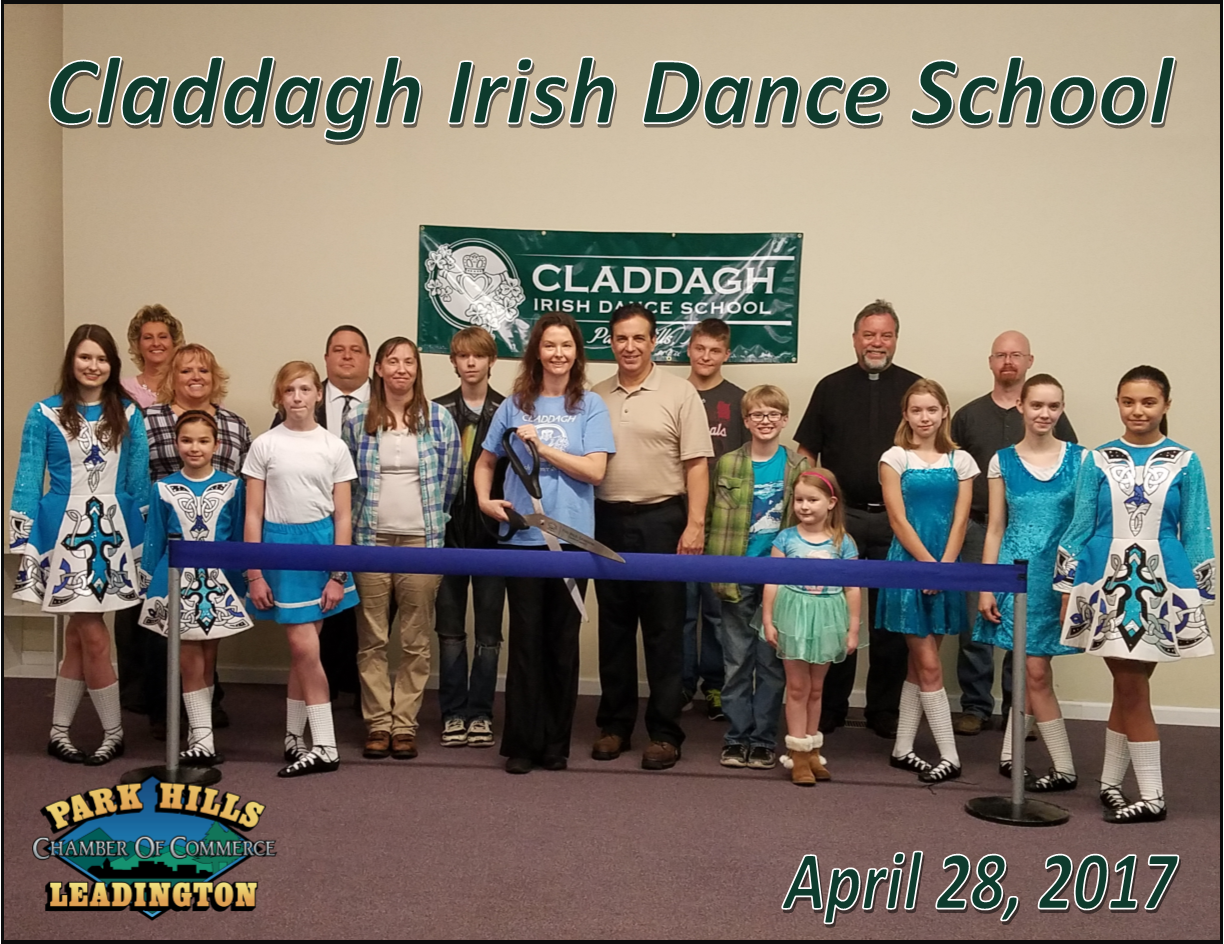 Rains may have been torrential, but the sun was shining inside the new home of the Claddagh Irish Dance School on Friday, April 28th as Park Hills - Leadington Chamber of Commerce board members, and students, friends, & family members of Marianne and Charley Politte celebrated their recent move. A Ribbon Cutting Ceremony, special dance performances, new registration discounts, and refreshments were all part of the celebration.

The dance school moved only a few blocks from their previous location, across from Park Hills River Mart, to 514-B East Main Street (the Ragsdale's building). The new space is 4-times larger than their previous location and includes several additional classrooms, providing room for additional classes and more students!

Please join us in congratulating Marianne & Charley on their new location! We are honored to have this unique cultural dance school available right here in our community!!


2017 Chamber Scholarship Awarded to Brandon Norfolk


The Park Hills - Leadington Chamber of Commerce Board of Directors is excited to announce that the third recipient of the Chamber Scholarship is, 2017 Central High School Graduate, Brandon Norfolk! Norfolk was awarded the scholarship at the Central High School Academic Banquet on April 27, 2017.

Norfolk, son of Kristy Thomas of Park Hills, will receive $500 per semester, for up to four consecutive semesters, towards his enrollment at Mineral Area College. The scholarship will help with the costs of general studies classes potentially leading to a degree in Wildlife Management.

Norfolk has been actively working toward his career goals throughout high school by taking many dual credit classes such as Elementary Spanish 1 & 2, English Comp 1 & 2, and General Biology, along with maintaining a 3.5 GPA. He has also worked extremely hard to earn the highest rank in The Boy Scouts of America Organization, Eagle Scout.

Norfolk is still determining his exact career path but is sure his degree will be focused on wildlife and nature. His love for wildlife and being outdoors caused him to aspire to be a Fish & Game Warden since the age of 10, however, he also has an interest in teaching biology. His experience in The Boy Scouts of America program will be very beneficial in helping him to achieve his career goals. Norfolk tells us that his family has been active in The Boy Scouts of America Organization for over 50 years, with his grandparents serving as troop leaders for 30 years prior to retiring. In following family traditions, Norfolk is not only an active member of The Boy Scouts of America, but also currently serves as an Order of the Arrow member, and is a four-year member of the Ozark Trailblazers Ceremonial Team.

After college, Brandon plans to stay active with The Boy Scouts of America by serving as a leader; teaching young scouts the values and morals of the organization, and he hopes to inspire other young scouts to earn their Eagle Scout rank. He also plans to donate time to local charities. Norfolk says that participating in the "Scouting For Food" program for more than 13 years has taught him a love for helping others, and he intends to continue this tradition for years to come.

Aside from his dedication to The Boy Scouts of America, Norfolk is a member of the Central High School Band; he loves music; plays the trumpet and guitar; works at Park Hills River Mart; and volunteers at the Veterinary Clinic of the Mineral Area.

As a recipient of the Park Hills – Leadington Chamber of Commerce Scholarship, Norfolk will receive his first $500 installment of funds to assist with either summer or fall classes at Mineral Area College during 2017. Three more $500 installments will be available to Norfolk; one for each consecutive semester he attends Mineral Area College, Central Methodist University, or Missouri Baptist University. He will receive a total of $2,000 in financial aid toward his continuing education studies. After finishing his general studies at Mineral Area College, Norfolk plans to continue his education at Southeast Missouri State University in hopes of earning his bachelor's degree in Wildlife Management.

Finally, one of the recipient requirements of the scholarship outlines the importance of being an active member of the community in which you live, by insisting that the scholarship recipient attend and/or volunteer at one Chamber of Commerce Investor Meeting and one Chamber Sponsored Event such as the Annual Firecracker Run or Sweetheart Trivia Night. We look forward to having Brandon join us at an investor meeting and help at one of our Chamber sponsored events. This will be a great opportunity for Chamber Investors and local members of the community to congratulate him on an outstanding high school academic record and continuing education plan!


Farewell to Our Retiring Board Member, David Easter!

We would like to bid a fond farewell to retiring ex-officio member, David Easter. David has served on the Chamber board since June of 2014. A representative is appointed from both Park Hills and Leadington to serve as a liaison, partner, or "bridge" per say, between the city and the chamber. Ex-Officio members are appointed for three-year terms.

When serving on the Chamber Board you become a member of the Chamber "family". Three years is a long time to spend dedicated to an organization. During that time, you can't help but build close bonds and many times even closer friendships. So retiring is kind of a big deal!

Board members are the backbone of this organization. They are volunteers who put their heart into making sure we are succeeding and improving. Their dedication is immeasurable.

To that end, David Easter, we say thank you!! Thank you for your time, your dedication, your energy, your sacrifice, and your heart! Thank you, for serving this Chamber for three consecutive years! Thank you, from our hearts to yours!


2nd Annual Three-Man Royal
The Chamber's Annual Disc Golf Tournament: "Three-Man Royal" is to be held on Saturday, May 20, 2017, and will include the following:
Registration - 8:00 a.m.
3-Man Scramble - $25 Per Person / $75 Per Team
36 Team Limit - Pre-Register by May 5 to Guarantee Your FREE T-SHIRT size
Open & Amateur Divisions
Open Division Pays Out Cash
Amateur Division Pays Out Trophies
2 Rounds of 18 Holes (Back Pads 1st Round, Short Pads 2nd Round)
Ace Pool - Closest to Pin (4 Holes)
A Portion of the Proceeds Used for Course Improvements
Lunch Provided
Attendance Prizes
Click Here to Register your Team Online Now!
Congratulations to the 2017 1st Quarter Acclaimed Ambassador!

Congratulations to Officer John Washburn, who was named 2017's 1st Quarter Acclaimed Ambassador at Tuesday's Investor Meeting!

Washburn, an officer at the Leadington Police Department, earned the 1st Quarter Acclaimed Ambassador Title by devoting some of his time to serving as a Chamber Ambassador. He did things such as attend events and meetings, volunteered his help at various events and meetings, promoted the Chamber by checking in and sharing chamber news and events on Facebook, recruited new Chamber investors, and invited potential new investors to attend Chamber meetings.

John was honored at the April Investor Meeting with Chamber recognition and a huge bag of goodies compliments of our Ambassador Sponsors!

We can't thank John enough for his dedication and hard work. Oh! And as a side note, as recognition of his dedication... He attended Tuesday's Luncheon - and helped work the registration table -- ON HIS DAY OFF -- and it was his BIRTHDAY -- and he did it without even knowing he had won the award! Dedication at it's finest!! We hope you had a great birthday, John! We sure do appreciate you!!

A number of Chamber Ambassadors are recruited annually to help promote and assist the Chamber in the community and at Chamber events & meetings. Ambassadors earn points for attending events and meetings, recruiting & mentoring new investors, and providing the Chamber Board and Directors with assistance in other duties as needed.

Special thanks to our Ambassador Club Sponsors for supporting the Ambassador Program and providing our much deserving champions with some incredible gifts. Our Ambassador Club Sponsors include:


C.Z. Boyer & Son Funeral Homes
Culligan of Leadington
Domino's Pizza
First Bank
First State Community Bank
Habitat Humanity
Heart & Soul Hospice
Isagenix
The Lemonade Stand Boutique
Serenity HospiceCare
Also pictured, and presenting this award, is our Ambassador Club Chairwoman & Chamber Board Member, Rita Martin.
Chamber Introduces: "Battle of the Badges"

The Park Hills - Leadington Chamber of Commerce is excited to announce a new event coming to the Parkland on September 9, 2017, called "Battle of the Badges". The event will be held at the brand new Sgt. Darrell S. Cole Memorial Shooting Range at St. Joe State Park.

This event will invite law enforcement from around the State of Missouri to participate in a shooting competition involving handguns and rifles. A limited number of civilian teams will also be invited to participate. There will be a limit of 24 law enforcement teams and 12 civilian teams competing that day. Spectators are also welcome!

As part of our focus to honor our law enforcement officials, we will also be including a "9/11 Remembrance" during the closing ceremonies.

Our main goal for this event is to honor our police and first responders. Our second is to ensure that a significant portion of the proceeds goes into the Chamber's scholarship fund. With this, we plan to create a second, brand new, annual scholarship, which will be given to an individual planning to attend either the Law Enforcement Academy or seek a Criminal Justice degree from Mineral Area College.

We are super excited about this brand new event and hope you are too!

Learn more about this brand new event here: Battle of the Badges

Be sure to "Like" our event page on Facebook too! You can find it here: Battle of the Badges/Facebook


SIGN ON DISCOUNT EXTENDED UNTIL MAY 31, 2017! Schedule your trip today!! Park Hills-Leadington Chamber of Commerce Invites Chamber Investors and Community Members to Enjoy a Trip to Pompeii & the Amalfi Coast!!

The Park Hills-Leadington Chamber of Commerce is excited to announce that it will be visiting irresistible Southern Italy & Amalfi Coast, departing October 26, 2017, and is inviting chamber investors, and family and friends of chamber investors to join them on this once in a lifetime experience.

Rich in culture and stunning scenery, irresistible Southern Italy is the setting for this breathtaking journey. Enjoy an eight-day journey back to the old country where you will explore not one, but many Italies. As one of the most popular tourist destinations in the world, find yourself relaxing in the town of Sorrento or sight-seeing along the Amalfi Coast, which includes gorgeous places such as, Positano, Ravello, and Amalfi. On this remarkable trip, you will also encounter the world famous archeological site of Pompeii. The beautiful Amalfi Coast awaits you with its great food, historical sites, and beautiful architecture, providing an unforgettable Italian experience.

"This is truly an amazing opportunity to participate in an international journey to irresistible Southern Italy, where program participants can experience the country's culture, learn about its business climate, and make new friends," said Tamara Coleman, Executive Director.

Space is limited, so act fast. Don't miss out on this opportunity to visit irresistible Southern Italy, exchange ideas with local business representatives, make new friends, and build new memories.

For more information about this amazing trip please call the Park Hills-Leadington Chamber of Commerce at (573) 431-1051 or email the chamber at info@phlcoc.net.