Welcome to Our Page!

The Park Hills-Leadington Chamber of Commerce would like to welcome you to Park Hills, Missouri and Leadington, Missouri. We hope you will enjoy the friendly small-town atmosphere as much as we have.


The Park Hills and Leadington communities have both played roles in Southeast Missouri's rich mining history. The "Lead Belt" was once one of the largest producers of lead in the world. With the depletion of this resource, the cities have met the challenges of transitioning from a mining-based economy to one much more diversified. Many small businesses are flourishing and more start-up businesses are opening each year.


We are very proud to have one of the finest community colleges in the state within our city limits. Both cities share an award-winning public school system, which is fully supported by a proud community.


If you enjoy the outdoors, you will love our parks. Our city parks are well-maintained and we are blessed with St. Joe State Park, one of the most visited state parks in the U.S., located right on our doorstep.


Whether just visiting or a new neighbor, you will find that Park Hills and Leadington are friendly, fun-filled communities. If you have any questions, please don't hesitate to contact the Park Hills-Leadington Chamber of Commerce at (573) 431-1051. It is a distinct privilege to welcome you to our cities.


Sincerely,


The Park Hills-Leadington Chamber of Commerce Board of Directors & Staff


Chamber Cares - Tushies & Toes Holiday Drive - SUCCESS!

Sending a huge thank you to all who participated in the Chamber Cares Tushies & Toes Holiday Drive this year! Thanks to so many of you we collected 164 packages of new undies & socks for Central R3 Schools!! What a wonderful holiday gesture! We hope your holidays are as blessed as you've made us!

Much appreciation to the event sponsors too:
Parkland Lawn Equipment

Reese Financial Group, Bill Skaggs, Financial Advisor

East Missouri Action Agency Outreach

Hefner Furniture & Appliance, Inc.

Habitat Restore
Central Methodist University

Special Memories
C-Barn, Desloge

Belgrade State Bank, Desloge

First Friday Coffee Concludes With Special Guest

See what you miss when you miss a First Friday Coffee with the Park Hills - Leadington Chamber!! Santa had so much fun with us at last night's parade, he and Mrs. Claus decided to join us for coffee this morning before heading back to prepare for Christmas!!

An extra special thanks to Parkland Health Center for the delicious, hot coffee; tasty - but healthy - snacks; and excellent company! We enjoyed visiting with you and learning about all the exciting new things happening at PHC!! Be sure to support your fellow Chamber Investors -- go "like" Parkland Health Center's Facebook page at www.facebook.com/phc.bjc right now!
Central's New Office Complex & Library Media Center are Open for Business!

Members of the Central RIII School Board, Administration, and Staff were joined by Investors from the Park Hills - Leadington Chamber of Commerce to celebrate the opening of the New Office Complex and Library Media Center at Central Elementary with a ribbon cutting ceremony on Thursday, November 13.

The construction and renovation project was made possible from bond proceeds that were sold by the school district. Voters overwhelmingly approved the bonds in April.

The district will also be hosting an open house from 5:00 to 6:00 p.m. this evening so that all district patrons can tour the new facilities.

The improvements and additions to the facility are beautiful! Congratulations to Central RIII and thank you to those who helped make this much needed project possible!
Brenda Jordan Claims Title of Acclaimed Ambassador for the 3rd Quarter in 2014

Congratulations to Chamber Ambassador, Brenda Jordan of The Printing Co. was named the Chamber's 3rd Quarter Acclaimed Ambassador at the October Investor Meeting at Mineral Area College! Along with the title, she received a fabulous gift basket valued at over $100 from the many gracious Chamber Ambassador Sponsors!


Brenda earned the most ambassador points by attending all but one of the eleven Chamber hosted meetings, ribbon cuttings, and events throughout the third quarter. Congratulations Brenda!


Gifts were compliments of the following Chamber Ambassador Sponsors: Serenity Hospicecare, Belgrade State Bank, William Bess - American Family Insurance Agent - Park Hills, MO, Parkland Health Center, Main Street Grill, The Printing Co., Central Methodist University, Home Pools and Spas, Mineral Area College, and Pharmax Pharmacy!


MC DC Floral Designs Opens In Park Hills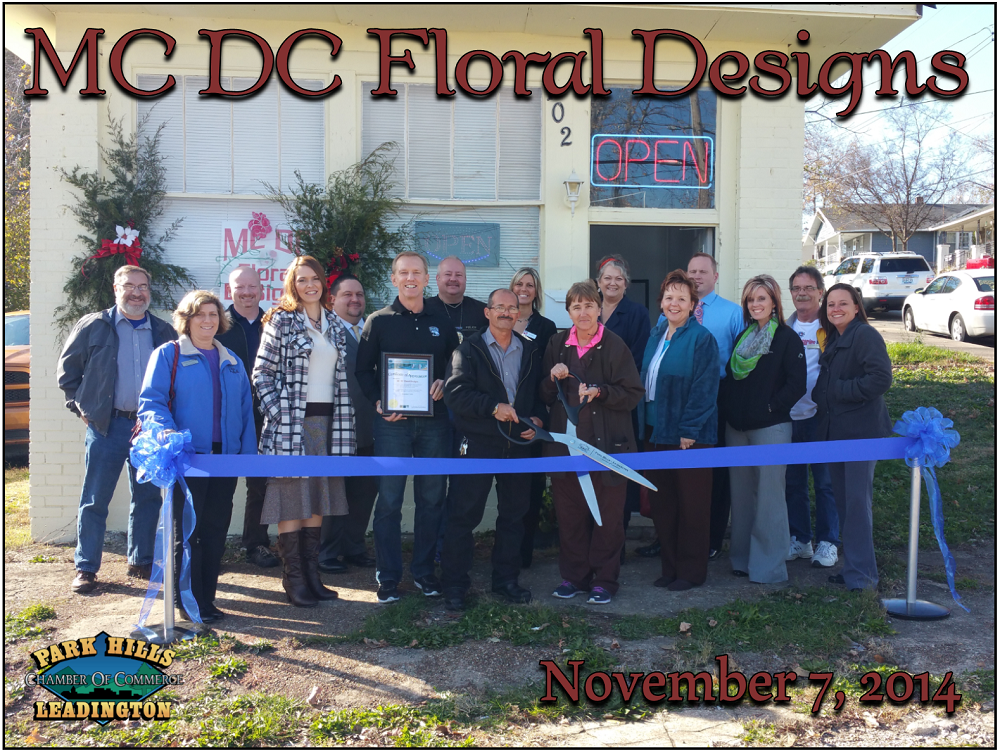 Congratulations to Marvin & Dawn Chapman, Owners of MC DC Floral Designs!! Several Chamber Investors helped to celebrate the opening of this brand new business with a ribbon cutting ceremony on November 7th.

MC DC Floral Designs creates silk arrangements, custom tailored to your likes and dislikes, color, or favorite flowers. Whether you're in search of a centerpiece for that special occasion; beautiful, low-maintenance decor for your home; a beautiful grave spray for a loved one; seasonal and everyday wreaths; or something fun such as a bird house planter, MC DC Floral Design has a huge selection to choose from.

MC DC Floral Designs is located at 102 Morice Street in Park Hills. Contact them at 573-747-9733 for business hours and be sure to welcome them to the community!