Welcome to Our Page!

The Park Hills-Leadington Chamber of Commerce would like to welcome you to Park Hills, Missouri and Leadington, Missouri. We hope you will enjoy the friendly small-town atmosphere as much as we have.


The Park Hills and Leadington communities have both played roles in Southeast Missouri's rich mining history. The "Lead Belt" was once one of the largest producers of lead in the world. With the depletion of this resource, the cities have met the challenges of transitioning from a mining-based economy to one much more diversified. Many small businesses are flourishing and more start-up businesses are opening each year.


We are very proud to have one of the finest community colleges in the state within our city limits. Both cities share an award-winning public school system, which is fully supported by a proud community.


If you enjoy the outdoors, you will love our parks. Our city parks are well-maintained and we are blessed with St. Joe State Park, one of the most visited state parks in the U.S., located right on our doorstep.


Whether just visiting or a new neighbor, you will find that Park Hills and Leadington are friendly, fun-filled communities. If you have any questions, please don't hesitate to contact the Park Hills-Leadington Chamber of Commerce at (573) 431-1051. It is a distinct privilege to welcome you to our cities.


Sincerely,


The Park Hills-Leadington Chamber of Commerce Board of Directors & Staff


Blankenship Insurance Christmas Parade December 4, 2014

The Park Hills - Leadington Chamber of Commerce is hosting the "Blankenship Insurance Christmas Parade" on Thursday, December 4, 2014 and we are inviting you to participate.

This year's theme is "A Disney Christmas". Parade participants are encouraged to decorate their entries to reflect their favorite Disney Movie. Because there are numerous Disney movies to choose from, parade officials will be discouraging duplicate theme entries, so we encourage you to register early to reserve your preferred theme.

There is a $10 entry fee to participate. This year, the Chamber, along with Farmer's Agent, Blankenship Insurance, will be distributing 1st, 2nd, and 3rd Place Cash Prizes, along with a 1st Place Trophy and Gift Basket.

As tradition has it, there will be entertainment and tree lighting ceremonies at both Leadington Plaza (prior to the parade) and the Farmer's Market (immediately following the parade). Spectators will also enjoy games, goodies, and more at the Farmer's Market beginning at 6:30 p.m., and visits with Santa and Mrs. Claus immediately following the parade.

Vendors interested in hosting a booth space at the Farmer's Market are encouraged to register online or call the Chamber office at 573-431-1051. Spaces are limited, so reserve your spot today!

To find out more about entering the parade, hosting a booth, or to register online, CLICK HERE.
Chamber Cares - Tushies & Toes Holiday Drive
Sponsored by: The Park Hills - Leadington Chamber of Commerce

Collecting New Undies and Socks for Children Ages 5-11
Undies Any Size from 0 to 12
Socks Any Size From 1 to 10
Benefiting Children of Central R-3 Schools

Drop off donations at any of the following locations between now and December 16:
Park Hills - Leadington Chamber Office - 12 Municipal Drive, Park Hills
Parkland Lawn Equipment - 980 Woodlawn Drive, Leadington
Reese Financial Group, Bill Skaggs, Financial Advisor - 206 Hyler Drive, Farmington
East Missouri Action Agency Outreach - 903 E. Chestnut, Desloge
Hefner Furniture & Appliance, Inc. - 4850 Hwy 67 North, Farmington
Habitat Restore - 712-C East Main Street, Park Hills
Central Methodist University - 5270 Flat River Road, Park Hills
Special Memories - 210 Woodlawn Drive, Leadington
C-Barn, Desloge - 108 S. Desloge Drive, Desloge
Belgrade State Bank, Desloge - 414 N. Desloge Drive, Desloge
Central's New Office Complex & Library Media Center are Open for Business!

Members of the Central RIII School Board, Administration, and Staff were joined by Investors from the Park Hills - Leadington Chamber of Commerce to celebrate the opening of the New Office Complex and Library Media Center at Central Elementary with a ribbon cutting ceremony on Thursday, November 13.

The construction and renovation project was made possible from bond proceeds that were sold by the school district. Voters overwhelmingly approved the bonds in April.

The district will also be hosting an open house from 5:00 to 6:00 p.m. this evening so that all district patrons can tour the new facilities.

The improvements and additions to the facility are beautiful! Congratulations to Central RIII and thank you to those who helped make this much needed project possible!
Serenity HospiceCare Hosts November First Friday Coffee

What a fun First Friday Coffee event at Serenity HospiceCare this morning! There's nothing more enjoyable than starting the day in the company of some interesting folks, with good conversation, and a ton of laughs.

Serenity HospiceCare provides end-of-life hospice care to families who need support. They are the ONLY free-standing, NON-PROFIT hospice in the area. Spiritually based, they serve 8 Missouri counties.

Serenity HospiceCare is currently celebrating their 25th Anniversary! Be sure to stop by, or drop them an email congratulating them on their outstanding commitment to providing "peace of mind when it matters most".

Thank you to Tammy Bracken and Serenity HospiceCare for hosting the event, and to all who attended! It was great to see some new faces this month! We hope you all attend next month and bring a friend!
Brenda Jordan Claims Title of Acclaimed Ambassador for the 3rd Quarter in 2014

Congratulations to Chamber Ambassador, Brenda Jordan of The Printing Co. was named the Chamber's 3rd Quarter Acclaimed Ambassador at the October Investor Meeting at Mineral Area College! Along with the title, she received a fabulous gift basket valued at over $100 from the many gracious Chamber Ambassador Sponsors!


Brenda earned the most ambassador points by attending all but one of the eleven Chamber hosted meetings, ribbon cuttings, and events throughout the third quarter. Congratulations Brenda!


Gifts were compliments of the following Chamber Ambassador Sponsors: Serenity Hospicecare, Belgrade State Bank, William Bess - American Family Insurance Agent - Park Hills, MO, Parkland Health Center, Main Street Grill, The Printing Co., Central Methodist University, Home Pools and Spas, Mineral Area College, and Pharmax Pharmacy!


MC DC Floral Designs Opens In Park Hills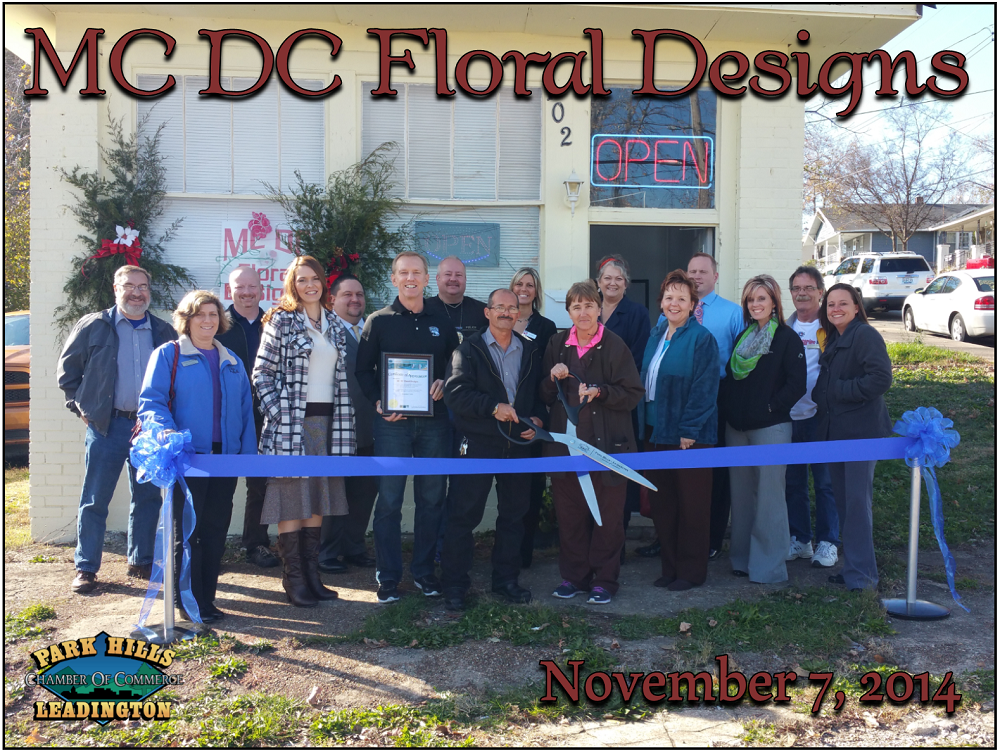 Congratulations to Marvin & Dawn Chapman, Owners of MC DC Floral Designs!! Several Chamber Investors helped to celebrate the opening of this brand new business with a ribbon cutting ceremony on November 7th.

MC DC Floral Designs creates silk arrangements, custom tailored to your likes and dislikes, color, or favorite flowers. Whether you're in search of a centerpiece for that special occasion; beautiful, low-maintenance decor for your home; a beautiful grave spray for a loved one; seasonal and everyday wreaths; or something fun such as a bird house planter, MC DC Floral Design has a huge selection to choose from.

MC DC Floral Designs is located at 102 Morice Street in Park Hills. Contact them at 573-747-9733 for business hours and be sure to welcome them to the community!
Wine Diva Boutique / Hot & Wild Tanning Salon Opens in Park Hills

Investors, Ambassadors and Board Members of the Park Hills - Leadington Chamber of Commerce were on hand to welcome Sharon Stephens and her new business to the community on Friday afternoon, October 17, 2014.

Sharon owns the newly opened Wine Diva Boutique/Hot & Wild Tanning Salon. The boutique and salon features women's clothing, jewelry, scarves, skin care products, tanning, tanning products, and some of the most amazing specialty mixes you'll find. Some of the specialty food items include peach or mango salsa; apple or pumpkin butter; applewood barbecue sauce; and various dip, wine, drink, cheese-ball, and pie mixes.

Be sure to stop by, to congratulate Sharon on her new business! With the holidays just around the corner, this will be a great place to shop for your favorite female, and stock up on some delicious goodies for your holiday get-togethers!

Wine Diva Boutique / Hot & Wild Tanning Salon is located at 243 West Main Street in Park Hills. Contact them at 573-431-5755 or Email: sharonstephens@myrandf.com