Welcome to Our Page!

The Park Hills-Leadington Chamber of Commerce would like to welcome you to Park Hills, Missouri and Leadington, Missouri. We hope you will enjoy the friendly small-town atmosphere as much as we have.


The Park Hills and Leadington communities have both played roles in Southeast Missouri's rich mining history. The "Lead Belt" was once one of the largest producers of lead in the world. With the depletion of this resource, the cities have met the challenges of transitioning from a mining-based economy to one much more diversified. Many small businesses are flourishing and more start-up businesses are opening each year.


We are very proud to have one of the finest community colleges in the state within our city limits. Both cities share an award-winning public school system, which is fully supported by a proud community.


If you enjoy the outdoors, you will love our parks. Our city parks are well-maintained and we are blessed with St. Joe State Park, one of the most visited state parks in the U.S., located right on our doorstep.


Whether just visiting or a new neighbor, you will find that Park Hills and Leadington are friendly, fun-filled communities. If you have any questions, please don't hesitate to contact the Park Hills-Leadington Chamber of Commerce at (573) 431-1051. It is a distinct privilege to welcome you to our cities.


Sincerely,


The Park Hills-Leadington Chamber of Commerce Board of Directors & Staff


Ribbon Cutting - Unico Bank, Park Hills Branch
First Bank's branches in Farmington, Park Hills, and Bismarck were purchased by Unico Bank of Mineral Point earlier this year and the Park Hill - Leadington Chamber was on hand a to help celebrate the occasion with a Ribbon Cutting on December 5th at the Park Hills Branch!
Unico Bank has been a financial leader in the Washington County, Missouri community since 1901. They are a community-oriented institution consisting of banking facilities in Missouri and Arkansas.
While focusing on their customers and community, Unico Bank looks for better ways and better banking products to serve our customers.
Checking, Savings, Loans, Certificates of Deposits, IRA's, and Safe Deposit Boxes are just a few of a wide range of individualized banking services that Unico Bank can offer you.
They believe that Internet Banking is a dynamic, safe, and convenient way to bring banking into your home. This new trend of banking allows them to increase their service levels to you.
They will continue to broaden this new service so that it becomes increasingly valuable.
But, as always, they want their customers to be satisfied! Contact them by phone or feel free to come by and talk to your banker.
Now offering 14 locations to serve U! Click Here to Learn more about Unico Bank Online!
Ribbon Cutting - Bullseye Equipment & Tool Rental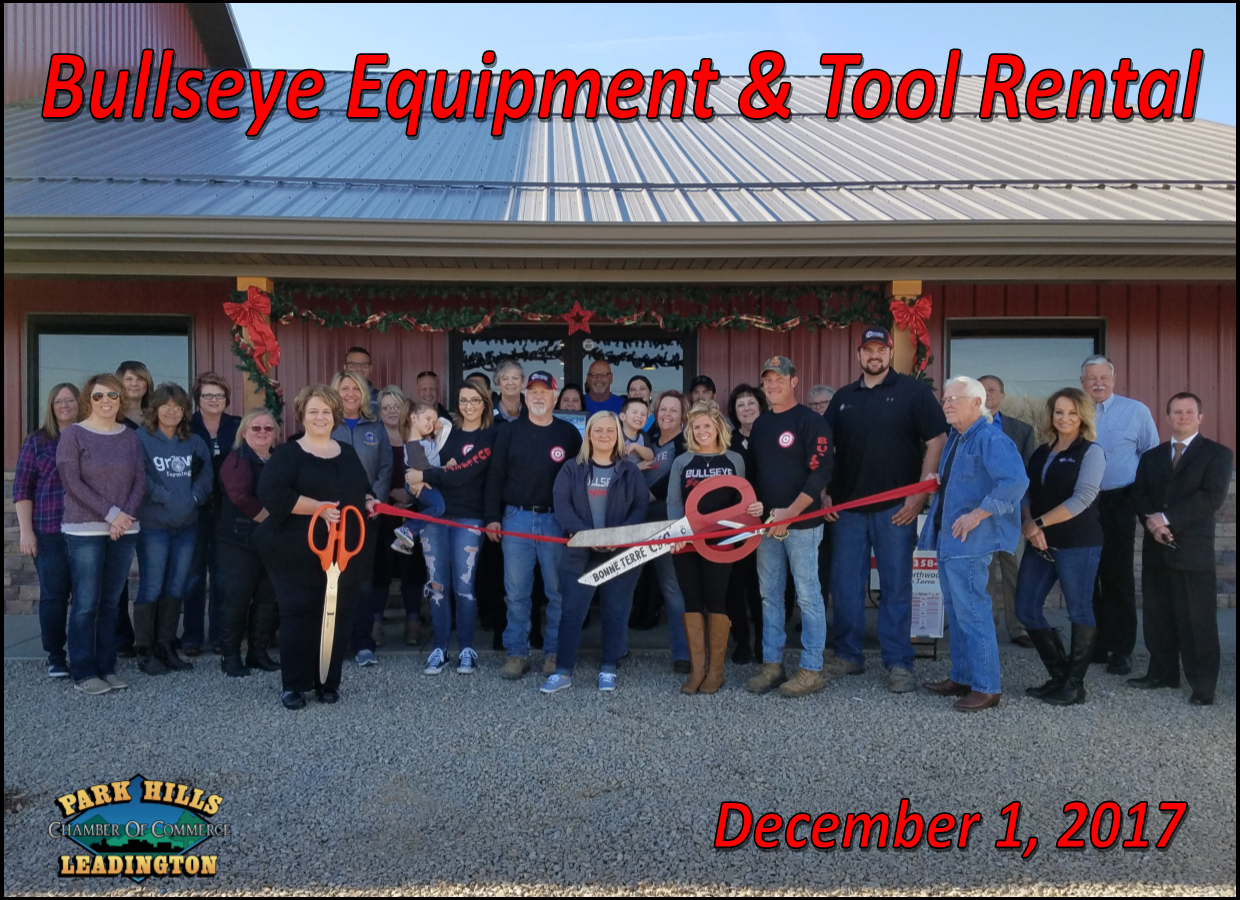 It was a beautiful December day, and we were honored to share in the celebration of a brand new chamber investor with a number of other surrounding chambers!


Bullseye Equipment & Tool Rental, recently relocated - just one building over - but to a more spacious, totally gorgeous, new building!!


Investors of the Park Hills - Leadington, Bonne Terre Chamber, Desloge Chamber, Farmington Regional Chamber, Desoto Chamber, and Twin Cities Chamber all joined forces to congratulate the gang at Bullseye Equipment on their new home!


Bullseye Equipment & Tool Rental is located in Bonne Terre, Missouri, and was founded in the Summer of 2016.

Bullseye Equipment & Tool Rental is the area's leading source for all your rental needs.

Do-It-Yourself Construction with Equipment Rentals. Also offering Party Rental, and affordable advertising with their LED Lighted Billboard!

Contact Bullseye Equipment & Tool to learn about these and other services they offer!!!


Ribbon Cutting - Crown Pointe Apartments

The weather may have been dreary but the spirits were bright and shiny inside the new Crown Pointe Apartments on November 1st!

The new 55+ senior living community is located at 4375 Hunt Road was the former site of Crown Pointe Timeshares. The beautiful one-bedroom apartments come in 2 different sizes and can even be furnished! Amenities include all utilities and cable, tennis courts and discounted fees at Crown Pointe Golf Course for starters!

Contact Patsy Weddle or Denise Barnes at Professional Property Management to take a tour today at 573-756-7613!

Does your business occasionally have a need for short-term housing for clients, contractors or employees? Make sure to ask Patsy or Denise how Crown Pointe Apartments can help you meet this need.

Congratulations and welcome to the Chamber!

**Thank you, Laura Raymer, for all the heavy lifting, and for the great write up! We appreciate you letting us borrow!!


Tushies & Toes Drive Starts in November

4th Annual Chamber Cares - Tushies & Toes Holiday Drive for Children's Sweatpants & Shoes


Sponsored by: The Park Hills - Leadington Chamber of Commerce


Collecting New Sweatpants & Shoes for Children Pre-School - 11 Years


Sweatpants Any Children's Size from XS-LG
Shoes Any Children's Size From 11 to 2 (including 1/2 sizes)


Benefiting Children of Central R-3 Schools.


Drop off your donations at any of the following locations between November 1, 2017, and December 18, 2017:


Park Hills - Leadington Chamber Office - 12 Municipal Drive, Park Hills - Mon-Fri: 8 a.m. - 4:30 p.m.

First State Community Bank - Both Park Hills Branches - 365 West Main Street & 1401 S. St. Joe Drive - During Regular Lobby Hours

New Era Bank - 207 West Main Street - Monday thru Friday, 8:30 a.m. to 4:00 p.m. - Donate and be entered for a Chance to Win a Gift Basket!

The River Worship Centre - 300 West Main Street - Monday thru Thursday, 10:00 a.m. to 3:00 p.m.

Missouri Job Center - 403 Parkway Drive - During Regular Office Hours

Kindred at Home - 751 Maple Valley Drive, Farmington - During Regular Office Hours

Bullseye Equipment and Tool Rental -113 N. Wood Drive, Bonne Terre - Monday thru Friday 7:00 a.m. to 5:00 p.m. and Saturday 7:00 a.m. to 12:00 p.m.

Cricket Wireless-Gateway - 405 N. State Street, Desloge, Monday thru Saturday 10:00 a.m. to 7:00 p.m. and Sunday 12:00 p.m. to 5:00 p.m.

Belgrade State Bank - 414 N. State Street, Desloge, Monday thru Thursday 9:00 a.m. to 4:00 p.m. and Friday 9:00 a.m. to 5:00 p.m.

Unico Bank Park Hills Location - 1000 East Main Street, Monday thru Friday During Regular Lobby Hours
Chamber Investors are Encouraged to Bring Donations to the November & December Investor Meeting. Sponsors should bring all donations to the December Investor Meeting for a Photo Op.


Chamber Investors are Invited to Participate as a Drop-off Location too!


Now Seeking Contestants & Sponsors for the Little Master & Miss Christmas Contest

The River Worship Centre is hosting the 2nd Little Master & Miss Christmas Contest in conjunction with this year's Hefner Furniture Christmas Parade!

Area businesses can sponsor their very own Little Master & Miss in the contest and a MAC Cheerleader will be assigned as your couple's "agent" taking care of all the footwork!

The community will cast votes for their favorite couple through non-perishable food donations at the sponsoring business.

If you are a business who would like to sponsor a couple, please click the link below to register today. Deadline for registration is Monday, October 30, 2017.

Click here for more information or to register participation!
Now Registering Entries for the 2017 Hefner Furniture Christmas Parade

Welcome to the Celebration! "Christmas on the Silver Screen"

What's your favorite All-Time Christmas Movie? Be it a classic holiday tale, an animated Christmas story, or a winter-time favorite that's fairly new to the big screen, there are literally hundreds of Christmas movies to choose from, and dozens of ways to create them! Join us at this year's Hefner Furniture Christmas Parade and see if your "must see" Christmas movie is one of our featured float entries!

Find out more details about this year's holiday event or register your float, parade entry, or vendor booth for the December 7th event by clicking the link below.

Click here for more information or to register your participation!
Congratulations to the 2017 3rd Quarter Acclaimed Ambassador!

Congratulations to Mrs. Chelley Odle! For the 2nd quarter in a row, Chelley has been named our Acclaimed Ambassador!! She was officially awarded the title of 3RD Quarter Acclaimed Ambassador at the recent October Investor Meeting and received a huge bag of goodies compliments of our Ambassador Club Sponsors!

Chelley, employed at KFMO 1240 AM / B104 FM, earned the 3rd Quarter Acclaimed Ambassador Title by spending a portion of her time to serving as a Chamber Ambassador.

She did things such as attend Chamber events and meetings, volunteered her help at various events and meetings, promoted the Chamber by checking in and sharing chamber news and events on Facebook and invited potential new investors to attend Chamber meetings.

Chelley is a very valuable member of our Ambassador Club! We appreciate all that she does for our Chamber and our communities! Thank you, Chelley for being so dedicated!!

A number of Chamber Ambassadors are recruited annually to help promote and assist the Chamber in the community and at Chamber events & meetings. Ambassadors earn points for attending events and meetings, recruiting & mentoring new investors, and providing the Chamber Board and Directors with assistance in other duties as needed.


Special thanks to our Ambassador Club Sponsors for supporting the Ambassador Program and providing our much deserving champions with some incredible gifts. Our Ambassador Club Sponsors include:


C.Z. Boyer & Son Funeral Homes
Culligan of Leadington
Domino's Pizza
First Bank
First State Community Bank
Habitat Humanity
Heart & Soul Hospice
Isagenix
The Lemonade Stand Boutique
Serenity HospiceCare
2017 Chamber Scholarship Awarded to Brandon Norfolk


The Park Hills - Leadington Chamber of Commerce Board of Directors is excited to announce that the third recipient of the Chamber Scholarship is, 2017 Central High School Graduate, Brandon Norfolk! Norfolk was awarded the scholarship at the Central High School Academic Banquet on April 27, 2017.

Norfolk, son of Kristy Thomas of Park Hills, will receive $500 per semester, for up to four consecutive semesters, towards his enrollment at Mineral Area College. The scholarship will help with the costs of general studies classes potentially leading to a degree in Wildlife Management.

Norfolk has been actively working toward his career goals throughout high school by taking many dual credit classes such as Elementary Spanish 1 & 2, English Comp 1 & 2, and General Biology, along with maintaining a 3.5 GPA. He has also worked extremely hard to earn the highest rank in The Boy Scouts of America Organization, Eagle Scout.

Norfolk is still determining his exact career path but is sure his degree will be focused on wildlife and nature. His love for wildlife and being outdoors caused him to aspire to be a Fish & Game Warden since the age of 10, however, he also has an interest in teaching biology. His experience in The Boy Scouts of America program will be very beneficial in helping him to achieve his career goals. Norfolk tells us that his family has been active in The Boy Scouts of America Organization for over 50 years, with his grandparents serving as troop leaders for 30 years prior to retiring. In following family traditions, Norfolk is not only an active member of The Boy Scouts of America, but also currently serves as an Order of the Arrow member, and is a four-year member of the Ozark Trailblazers Ceremonial Team.

After college, Brandon plans to stay active with The Boy Scouts of America by serving as a leader; teaching young scouts the values and morals of the organization, and he hopes to inspire other young scouts to earn their Eagle Scout rank. He also plans to donate time to local charities. Norfolk says that participating in the "Scouting For Food" program for more than 13 years has taught him a love for helping others, and he intends to continue this tradition for years to come.

Aside from his dedication to The Boy Scouts of America, Norfolk is a member of the Central High School Band; he loves music; plays the trumpet and guitar; works at Park Hills River Mart; and volunteers at the Veterinary Clinic of the Mineral Area.

As a recipient of the Park Hills – Leadington Chamber of Commerce Scholarship, Norfolk will receive his first $500 installment of funds to assist with either summer or fall classes at Mineral Area College during 2017. Three more $500 installments will be available to Norfolk; one for each consecutive semester he attends Mineral Area College, Central Methodist University, or Missouri Baptist University. He will receive a total of $2,000 in financial aid toward his continuing education studies. After finishing his general studies at Mineral Area College, Norfolk plans to continue his education at Southeast Missouri State University in hopes of earning his bachelor's degree in Wildlife Management.

Finally, one of the recipient requirements of the scholarship outlines the importance of being an active member of the community in which you live, by insisting that the scholarship recipient attend and/or volunteer at one Chamber of Commerce Investor Meeting and one Chamber Sponsored Event such as the Annual Firecracker Run or Sweetheart Trivia Night. We look forward to having Brandon join us at an investor meeting and help at one of our Chamber sponsored events. This will be a great opportunity for Chamber Investors and local members of the community to congratulate him on an outstanding high school academic record and continuing education plan!