Welcome to Our Page!

The Park Hills-Leadington Chamber of Commerce would like to welcome you to Park Hills, Missouri and Leadington, Missouri. We hope you will enjoy the friendly small-town atmosphere as much as we have.


The Park Hills and Leadington communities have both played roles in Southeast Missouri's rich mining history. The "Lead Belt" was once one of the largest producers of lead in the world. With the depletion of this resource, the cities have met the challenges of transitioning from a mining-based economy to one much more diversified. Many small businesses are flourishing and more start-up businesses are opening each year.


We are very proud to have one of the finest community colleges in the state within our city limits. Both cities share an award-winning public school system, which is fully supported by a proud community.


If you enjoy the outdoors, you will love our parks. Our city parks are well-maintained and we are blessed with St. Joe State Park, one of the most visited state parks in the U.S., located right on our doorstep.


Whether just visiting or a new neighbor, you will find that Park Hills and Leadington are friendly, fun-filled communities. If you have any questions, please don't hesitate to contact the Park Hills-Leadington Chamber of Commerce at (573) 431-1051. It is a distinct privilege to welcome you to our cities.


Sincerely,


The Park Hills-Leadington Chamber of Commerce Board of Directors & Staff


2nd Annual Three-Man Royal
The Chamber's Annual Disc Golf Tournament: "Three-Man Royal" is to be held on Saturday, May 20, 2017, and will include the following:
Registration - 8:00 a.m.
3-Man Scramble - $25 Per Person / $75 Per Team
36 Team Limit - Pre-Register by May 5 to Guarantee Your FREE T-SHIRT size
Open & Amateur Divisions
Open Division Pays Out Cash
Amateur Division Pays Out Trophies
2 Rounds of 18 Holes (Back Pads 1st Round, Short Pads 2nd Round)
Ace Pool - Closest to Pin (4 Holes)
A Portion of the Proceeds Used for Course Improvements
Lunch Provided
Attendance Prizes
Click Here to Register your Team Online Now!
Chamber Introduces: "Battle of the Badges"

The Park Hills - Leadington Chamber of Commerce is excited to announce a new event coming to the Parkland on September 9, 2017, called "Battle of the Badges". The event will be held at the brand new Sgt. Darrell S. Cole Memorial Shooting Range at St. Joe State Park.

This event will invite law enforcement from around the State of Missouri to participate in a shooting competition involving handguns and rifles. A limited number of civilian teams will also be invited to participate. There will be a limit of 24 law enforcement teams and 12 civilian teams competing that day. Spectators are also welcome!

As part of our focus to honor our law enforcement officials, we will also be including a "9/11 Remembrance" during the closing ceremonies.

Our main goal for this event is to honor our police and first responders. Our second is to ensure that a significant portion of the proceeds goes into the Chamber's scholarship fund. With this, we plan to create a second, brand new, annual scholarship, which will be given to an individual planning to attend either the Law Enforcement Academy or seek a Criminal Justice degree from Mineral Area College.

We are super excited about this brand new event and hope you are too!

Learn more about this brand new event here: Battle of the Badges

Be sure to "Like" our event page on Facebook too! You can find it here: Battle of the Badges/Facebook


Farewell to Our Retiring Board Members!
With the new year comes new board members, which means we must say farewell to those retiring.
When serving on the Chamber Board you become a member of the Chamber "family". Three years (and for some, like Bob Gerig & Ginger Pizarro, SIX years), is a long time to spend dedicated to an organization. During that time, you can't help but build close bonds and many times even closer friendships. So retiring is kind of a big deal!
Board members are the backbone of this organization. They are volunteers who put their heart into making sure we are succeeding and improving. Their dedication is immeasurable.
So to Robert Gerig and Ginger Pizarro, we say thank you!! Thank you for your time, your dedication, your energy, your sacrifice, and your heart! Thank you, for serving this Chamber for six consecutive years! Thank you, from our hearts to yours!
Congratulations to the 2016 4th Quarter Acclaimed Ambassadors & the 2016 Ambassador of the Year!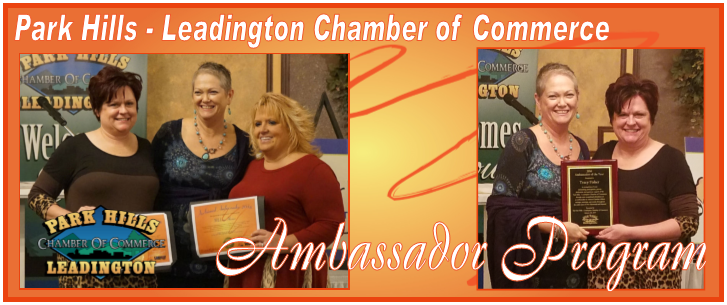 We would like to say congratulations to two very special ladies! Tracy Fisher and Melissa Hosna were BOTH named the 4th Acclaimed Ambassador. Both ladies earned an equal number of points, by dedicating so much of their time helping and promoting the Chamber during the 4th quarter of 2016.
And, to wrap up the Ambassador Club Year, Tracy earned the most overall points for the year and also took home the Ambassador of the Year Award at the recent Installation Banquet!
Their reward? Both were recently elected to serve as Board Members, graduating from their Ambassador roles, and are also now serving on the Ambassador Committee helping to teach our new Ambassadors just how it's done!
Thank you ladies! These recognitions don't even begin to express the gratitude we have for your had work and dedication to the Park Hills - Leadington Chamber!
Sweetheart Trivia Proves to be Biggest, Most Successful event EVER!
With 23 teams, more than 90 door prizes, 26 desserts, and approximately $1,000 earned for the Chamber's Scholarship Fund, we couldn't be more PLEASE with the results of this year's Valentine's Day Event!!
So much effort goes into this, and all our events, it's hard to express just how much we appreciate each and every person who participates. Be it Glenda Straughn and the use of her skills and facility, the Board of Directors, the Ambassadors, my husband, our Investors, the players, the local businesses, and even Taylor Jones (the 2016 Scholarship Recipient) and her mom. We could never, in a million years, be so successful without you... ALL OF YOU! Thank you so, incredibly much!
And finally, thank you to the Round Sponsors of this year's event. They include:
American Family Insurance - Edward Felker Agency
Bates Insurance
Belgrade Financial Service
Belgrade State Bank
C.Z. Boyer & Son Funeral Homes
Domino's Pizza
First Bank
First State Community Bank
Mineral Area Office Supply
Southeast Missouri Behavioral Health
Park Hills-Leadington Chamber of Commerce Invites Chamber Investors and Community Members to Enjoy a Trip to Pompeii & the Amalfi Coast!!

The Park Hills-Leadington Chamber of Commerce is excited to announce that it will be visiting irresistible Southern Italy & Amalfi Coast, departing October 26, 2017, and is inviting chamber investors, and family and friends of chamber investors to join them on this once in a lifetime experience.

Rich in culture and stunning scenery, irresistible Southern Italy is the setting for this breathtaking journey. Enjoy an eight-day journey back to the old country where you will explore not one, but many Italies. As one of the most popular tourist destinations in the world, find yourself relaxing in the town of Sorrento or sight-seeing along the Amalfi Coast, which includes gorgeous places such as, Positano, Ravello, and Amalfi. On this remarkable trip, you will also encounter the world famous archeological site of Pompeii. The beautiful Amalfi Coast awaits you with its great food, historical sites, and beautiful architecture, providing an unforgettable Italian experience.

"This is truly an amazing opportunity to participate in an international journey to irresistible Southern Italy, where program participants can experience the country's culture, learn about its business climate, and make new friends," said Tamara Coleman, Executive Director.

Space is limited, so act fast. Don't miss out on this opportunity to visit irresistible Southern Italy, exchange ideas with local business representatives, make new friends, and build new memories.

For more information about this amazing trip please call the Park Hills-Leadington Chamber of Commerce at (573) 431-1051 or email the chamber at info@phlcoc.net.