Welcome to Our Page!

The Park Hills-Leadington Chamber of Commerce would like to welcome you to Park Hills, Missouri and Leadington, Missouri. We hope you will enjoy the friendly small-town atmosphere as much as we have.


The Park Hills and Leadington communities have both played roles in Southeast Missouri's rich mining history. The "Lead Belt" was once one of the largest producers of lead in the world. With the depletion of this resource, the cities have met the challenges of transitioning from a mining-based economy to one much more diversified. Many small businesses are flourishing and more start-up businesses are opening each year.


We are very proud to have one of the finest community colleges in the state within our city limits. Both cities share an award-winning public school system, which is fully supported by a proud community.


If you enjoy the outdoors, you will love our parks. Our city parks are well-maintained and we are blessed with St. Joe State Park, one of the most visited state parks in the U.S., located right on our doorstep.


Whether just visiting or a new neighbor, you will find that Park Hills and Leadington are friendly, fun-filled communities. If you have any questions, please don't hesitate to contact the Park Hills-Leadington Chamber of Commerce at (573) 431-1051. It is a distinct privilege to welcome you to our cities.


Sincerely,


The Park Hills-Leadington Chamber of Commerce Board of Directors & Staff


The Hefner Furniture Christmas Parade is Almost Here!
Welcome to the Celebration! "Christmas Musical Magic"
What's your favorite All-Time Christmas Song? Be it a Classic Holiday Hymn, a Christmas Musical Melody, an Animated Show-Tune, or maybe a Country or Rock Holiday Ballad there are literally hundreds of Christmas songs to choose from, and dozens of ways to create them! Choose your all-time favorite Christmas song and let us see your interpretation!
This year's event will again begin in Leadington near the plaza and conclude at the Park Hills Sports Complex. There will be entertainment at both locations to include Central Students and the up and coming Raelyn Winick, craft and game booths at the Park Hills location, and of course, Santa Claus!
Entertainment begins at 6:00 p.m. in the Leadington Plaza and the Parade starts at 7:00. Don't miss it!
To find all the rules, guidelines, and details; or to register, see the Hefner Furniture Christmas Parade Event Page.
Parkland Health Mart Pharmacy Celebrates The Opening of Their New Store
Congratulations to Parkland Health Mart Pharmacy on the grand opening of their brand new, gorgeous facility!!

We were honored to be invited to share in this wonderful celebration along with our sister Chambers, Desloge, Bonne Terre, & Farmington on Wednesday, November 28, 2018!

The building is simply beautiful and includes such a huge variety of services and supplies, including the new USP store. The owners and staff members are such kind, caring folks, they make you feel right a home whenever you stop in.

Parkland Health Mart Pharmacy specializes in serving our community with fast, friendly, professional service and the highest-quality medicines and health products. You'll always work with somebody at their pharmacy who greets you by name, and their pharmacists never fail to take the time needed to counsel you and answer all your questions.

Please join us in congratulating them! What a wonderful new addition to our county! Thank you, Lisa Umfleet and all the Parkland Health Mart Pharmacy staff members for investing in our community and all of your area Chambers of Commerce!
Parkland Hope Center Opens in Park Hills
Members of the Park Hills - Leadington Chamber along with Park Hills City Officials were honored to be invited to celebrate the opening of the new Parkland Hope Center on November 27th.
The Parkland Hope Center is not a food bank or food pantry but a private non-profit 501(c)3 community assistance program allowing people (working or non-working) to obtain food and household items that have been greatly discounted. It offers a long-term self-sufficiency solution to families and individuals struggling to fulfill their basic needs. Their mission is to serve Christ through the networking of food. They start each day with Bible study and prayer and invites you to ask them to pray for you. They accept prayer request and pray for those requests.
All Are Welcome: Parkland Hope center accepts membership applications with a photo ID and a $5.00 cash annual membership fee.
Please join us in welcoming The Parkland Hope Center to the Community!
Congratulations to our 2018 3rd Quarter Acclaimed Ambassador - Mike Campbell!
Congratulations to Mr. Mike Campbell! Mike was recently was named the 2018 3rd Quarter Acclaimed Ambassador!
Mike is employed by the Missouri Job Center in Park Hills and won the title by assisting the Chamber as a very devoted Ambassador throughout the 3rd Quarter of 2018.
Mike earned more points throughout the 3rd quarter than other Ambassadors by attending numerous Chamber sponsored events, ribbon cuttings, and meetings, as well as, volunteering his time to help with things such as working at the registration table at investor meetings.
Mike has been a member of the Park Hills - Leadington Chamber for several years and has served as an ambassador for nearly three years. He is very valuable to the Chamber and we can't express the amount of gratitude we have for Mike and all that he has done to assist us!
A number of Chamber Ambassadors are recruited annually to help promote and assist the Chamber in the community and at Chamber events & meetings. Ambassadors earn points for attending events and meetings, recruiting & mentoring new investors, and providing the Chamber Board and Directors with assistance in other duties as needed.
Special thanks to our 2018 Ambassador Club Sponsors for supporting the Ambassador Program and providing our much deserving champions with some incredible gifts. Our Ambassador Club Sponsors include:
Belgrade Financial Services

Belgrade State Bank

Better Bodies of Missouri, Inc.

C.Z. Boyer & Son Funeral Homes

Cardinal X-Press, LLC

Culligan of Leadington

Domino's Pizza

Isagenix

Kindred at Home

The Lemonade Stand Boutique

Parkland Health Mart Pharmacy

Pharmax Pharmacy

Serenity HospiceCare

The Printing Co.

Unico Bank
Find out more about the Ambassador Club and see a list of our 2018 Ambassador Club Members and Sponsors on our Ambassador Program page!
RiverSide Grill Celebrates One Year with Ribbon Cutting
Chamber & City Officials were on hand Friday, November 9th to celebrate the official grand opening/ 1-year anniversary of The RiverSide Grill! Located at 7 East Main Street, in Park Hills.
The RiverSide Grill is located in the former Park Hills River Mart building next to Flat River Creek and offers a large variety of homestyle lunch and dinner options served in a family-friendly atmosphere. The RiverSide Grill boasts some of the best catfish in St. Francois County, along with a full salad bar and an extensive menu to include salads, wraps, sandwiches, pasta, and daily specials.
Open 11:00 a.m. to 8:00 p.m. Monday through Saturday and 11:00 a.m. to 3:00 p.m. on Sunday, you're invited to stop in, order up something delicious, and enjoy!
Thank you, Brandon, for investing in our Chamber and our community!
Little Ones Boutique Opens in Park Hills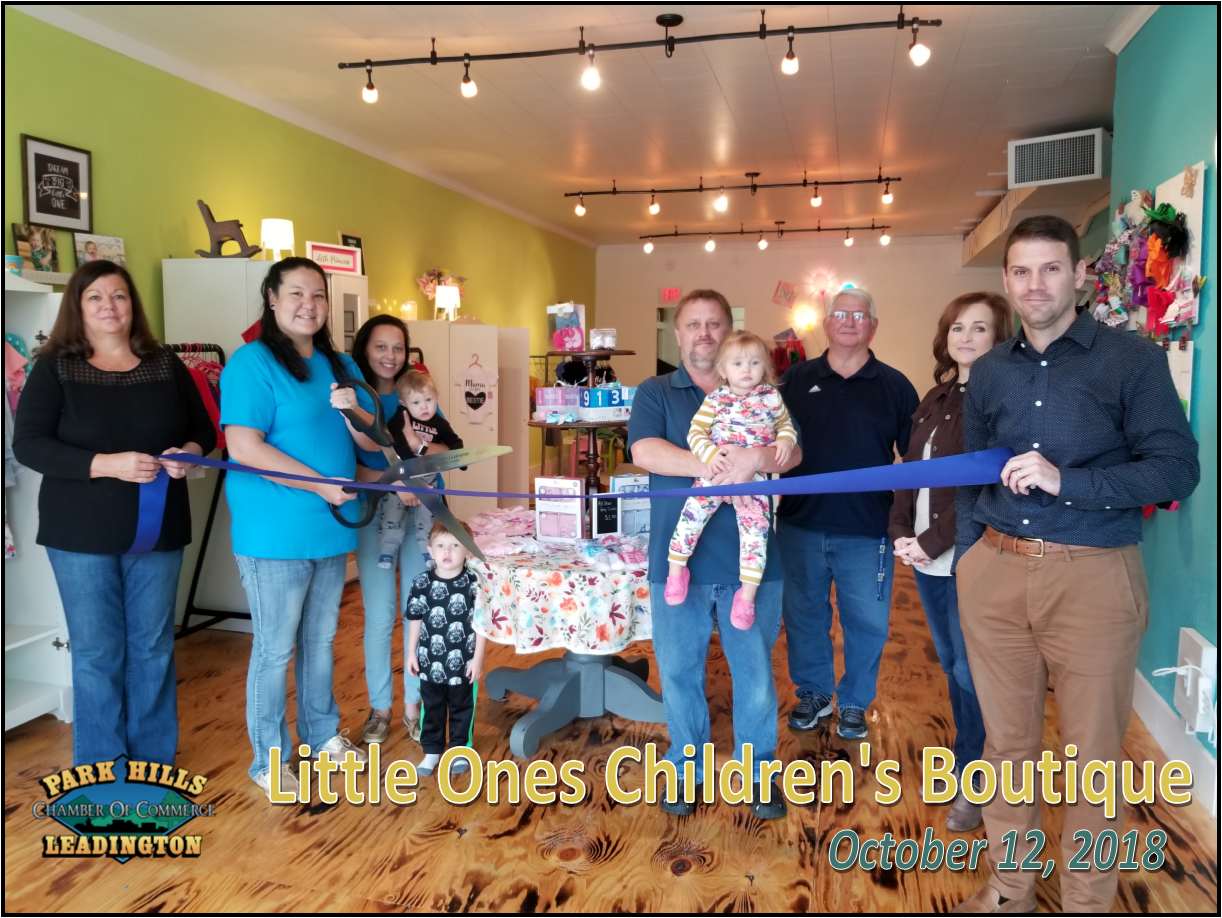 Chamber & City Officials were on hand October 12, 2018, to celebrate the opening of Little Ones Children's Boutique!
Located at 315 West Main Street, just across from the River Worship Centre, Little Ones Boutique offers a large variety of unique boutique style infant and toddler clothing and accessories all at super reasonable prices - Kara mentioned this morning that she intends to keep nearly all her outfits priced at just $20 and under!
Whether you're searching for a holiday-themed outfit, the perfect baby shower gift, something with local team spirit, or even a time-out chair, Little Ones has it all!
Congratulations to Owner, Kara Stein on her beautiful new boutique! Stop in soon and check it out!
Raylyn White Awarded Park Hills - Leadington Chamber Scholarship
The Park Hills - Leadington Chamber of Commerce Board of Directors is excited to announce that the fourth recipient of the Chamber Scholarship is, 2018 Central High School Graduate, Raylyn White! Raylyn was awarded the scholarship at the Central High School Academic Banquet on May 3, 2018.
Raylyn, daughter of Jeremy and Wendy White, will receive $500 per semester, for up to four consecutive semesters, towards her initial enrollment at Mineral Area College and follow her through the bridge program to Central Methodist University. The scholarship will help with the cost of classes, supplies, and other needs as she works to earn her Associate's Degree at MAC, followed by, her Bachelor's Degree in Accounting at CMU.
Raylyn admits that her college education is just a bridge to what she wants to do after college. She has been an active member of her church her entire life and explains that her church played a very large role in deciding what she wanted to do after high school. Raylyn says that she feels as if she is being led toward a leadership role within her church. For her, an accounting degree will enable her to assist the church with financial guidance, as well as, allow for a flexible schedule with the ability to work from home so that she can continue to work with those in need. Her future goals include working with young people and those in need.
Strongly vested in her faith, Raylyn spends much of her spare time working with the church's Bus Ministry kids. She explains that these children are from very low-income homes; many of them face challenges that most of us could never imagine. She helps to mentor these children, teach them, and assists in finding them opportunities that they might not otherwise have access too. She plans to continue this work no matter where the future takes her. Raylyn told us "my entire educational goal is to prepare myself for what God had called me to do: be a servant to those around me."
As a recipient of the Park Hills – Leadington Chamber of Commerce Scholarship, Raylyn will receive her first $500 installment of funds to assist with fall classes at Mineral Area College during 2018. Three more $500 installments will be available to Raylyn; one for each consecutive semester she attends Mineral Area College, Central Methodist University, or Missouri Baptist University. She will receive a total of $2,000 in financial aid toward her continuing education studies. After finishing her associate's degree at Mineral Area College, Raylyn plans to continue her education at Central Methodist University, earning her bachelor's degree in accounting.
Finally, one of the recipient requirements of the scholarship outlines the importance of being an active member of the community in which you live, by insisting that the scholarship recipient attend and/or volunteer at one Chamber of Commerce Investor Meeting and one Chamber Sponsored Events such as the Annual Firecracker Run or Sweetheart Trivia Night. We look forward to having Raylyn join us at an investor meeting and help at one of our Chamber sponsored events. This will be a great opportunity for Chamber Investors and local members of the community to congratulate her on an outstanding high school academic record and continuing education plan!