Welcome to Our Page!

The Park Hills-Leadington Chamber of Commerce would like to welcome you to Park Hills, Missouri and Leadington, Missouri. We hope you will enjoy the friendly small-town atmosphere as much as we have.


The Park Hills and Leadington communities have both played roles in Southeast Missouri's rich mining history. The "Lead Belt" was once one of the largest producers of lead in the world. With the depletion of this resource, the cities have met the challenges of transitioning from a mining-based economy to one much more diversified. Many small businesses are flourishing and more start-up businesses are opening each year.


We are very proud to have one of the finest community colleges in the state within our city limits. Both cities share an award-winning public school system, which is fully supported by a proud community.


If you enjoy the outdoors, you will love our parks. Our city parks are well-maintained and we are blessed with St. Joe State Park, one of the most visited state parks in the U.S., located right on our doorstep.


Whether just visiting or a new neighbor, you will find that Park Hills and Leadington are friendly, fun-filled communities. If you have any questions, please don't hesitate to contact the Park Hills-Leadington Chamber of Commerce at (573) 431-1051. It is a distinct privilege to welcome you to our cities.


Sincerely,


The Park Hills-Leadington Chamber of Commerce Board of Directors & Staff


12th Annual Park Hills - Leadington Chamber of Commerce Firecracker Run

Benefiting the Park Hills - Leadington Chamber of Commerce Scholarship Fund!

Saturday, June 27, 2015
Begins & Ends at Central High School


1-Mile Walk

1-Mile Run

5K Walk

5K Run

T-Shirts to the First 150 Entries

Timed By Cape Road Runners

All Ages Welcome
For more information, or to register online now, visit the event page at: 12th Annual Firecracker Run. Also, don't forget to follow the Firecracker Run Facebook Page for continuous update on this and future events!


Chelsie Grindstaff Awarded Park Hills - Leadington Chamber Scholarship!

The Park Hills - Leadington Chamber of Commerce Board of Directors is excited to announce that the recipient of the very first Chamber Scholarship is 2015 Central High School Graduate, Chelsie L. Grindstaff!


Grindstaff, daughter of D. Ray and Sheila Grindstaff of Park Hills, will receive $500 per semester, for up to four consecutive semesters, to assist with the costs of earning her Associates of Arts Degree in Teaching at Mineral Area College.

Grindstaff was heavily involved in extracurricular activities throughout her high school career. She was active in Marching Band, Jazz Band, Symphonic Band, FTA, FCA, and the Upward Bound Program.

Community involvement played an important part in the decision making process of the Chamber's Scholarship Selection Committee. Community pride, beatification, and participation are all very important to the Chamber. The selection committee found it refreshing that aside from maintaining a high GPA through her high school studies; participating in several extracurricular school activities; and working 15-20 hours per week for the past two years at Country Mart; Grindstaff, also found time to be active and support her local community by volunteering and participating in the Future Teachers of America, the Fellowship of Christian Athletes, Hurryville Freewill Baptist Church, and Park Hills Head Start.

As a recipient of the Park Hills – Leadington Chamber of Commerce Scholarship, Grindstaff will receive her first $500 installment of funds to assist with the summer classes in which she's already enrolled at Mineral Area College. Three more $500 installments will be available to Grindstaff; one for each consecutive semester she attends Mineral Area College, Central Methodist University, or Missouri Baptist University. She will receive a total of $2,000 in financial aid toward her degree.

Finally, one of the recipient requirements of the scholarship outlines the importance of being an active member of the community in which you live by insisting that the scholarship recipient attend and/or volunteer at one Chamber of Commerce Investor Meeting, and one Chamber Sponsored Event such as the Annual Firecracker Run or Sweetheart Trivia Night. We look forward to having Chelsie join us at a meeting and help at an event. This will be a great opportunity for Chamber Investors and local members of the community to congratulate her on an outstanding high school academic record and continuing education plan!


Claddagh Irish Dance Hosts May First Friday Coffee

Chamber members lined up for their first dance lesson at the May First Friday Coffee at Claddagh Irish Dance! Okay, so maybe there really weren't any dance lessons, however, those in attendance did have VIP seats to hear a major announcement by the dance studio owners, Marianne & Charles Politte!

Here's what they heard: Coming in September, Claddagh Irish Dance and the Downtown Park Hills Association will be presenting the first ever Parkland Celtic Festival in Downtown Park Hills!

The festival will be featuring live Irish & Scottish music & dance, delicious food & drinks, fun games, kids' activities, arts & crafts, and unique vendors!! The group is currently looking for volunteers, vendors, & sponsors for the event. Find out more about the event on their Facebook Page, or on the Chamber's Event Calendar at Parkland Celtic Festival.

Thank you Marianne & Charlie for hosting this lovely event! You help prove there's always something exciting at the Park Hills - Leadington Chamber's First Friday Coffee Events!


Congratulations to UltiMUTT Cuts!!
Congratulations to Jenna & the Crew at Ultimutt Cuts, LLC!! Chamber Board Members, Ambassadors, and Investors from both the Park Hills - Leadington Chamber of Commerce and the Desloge Chamber of Commerce, as well as, Leadington City Officials, gathered to welcome the new dog grooming establishment to Leadington & St. Francois County with a ceremonial ribbon cutting. UltiMUTT Cuts owner, Jenna Tracy, told attendees that the business is more than just pet grooming, they think of it as a "spa for your pet". UltiMUTT Cuts provides all the services you need to keep your pet smelling fresh, feeling fluffy, and looking fine!

UltiMUTT Cuts, LLC is located at 504 East Woodlawn Drive in Leadington, between MBU Regional Learning Centers in Jefferson County & Farmington and 573 Salon. Be sure to "like" them on Facebook, share their page with your friends, and send them your congratulatory notes!


Hosna Named 1st Quarter Acclaimed Ambassador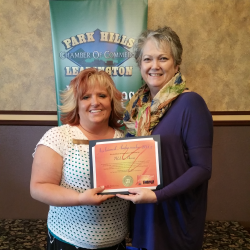 Huge round of applause for Melissa Hosna of U.S. Bank!! Melissa worked extra hard during the first quarter of 2015 earning the title of "Acclaimed Ambassador of the Quarter"! Chamber Ambassadors are recruited annually to help promote and assist the Chamber in the community and at Chamber events & meetings. Ambassadors earn points for attending events and meetings, recruiting & mentoring new investors, and providing the Chamber Board and Directors with assistance in other duties as needed.

Melissa worked extra hard to earn the most points during the first quarter, and her dedication paid off! She was honored with lunch compliments of the Chamber, and huge bag of goodies compliments of our Ambassador Sponsors that included things such as t-shirts, coffee mugs, wine, home decor, and even Cardinal Baseball Tickets!

We can't thank Melissa enough for her dedication to our Chamber. Investors like her help make us succeed!

Special thanks to our Ambassador Sponsors for supporting the Ambassador Program and providing our much deserving champions with some incredible gifts. Our Sponsors include: Belgrade State Bank - Desloge Branch, Central Methodist University - Park Hills, First Bank - Park Hills Branch, Hefner Furniture & Appliance, KFMO 1240 AM/ B104, Park Hills River Mart, Parkland Health Center, Pharmax Pharmacy - Leadington, Serenity Hospicecare, & The Printing Co.!